What is Shattered World?
About Shattered World
About MUDs
How do I play?
Frequently Asked Questions

Dynamic Commands
Who's On?
Sanom City Times
E-Mail Admin
Play Now!

Game Features
Races
Guilds
Quests
Lords
Cults
Skills
Legal System
Economic System
Maps

Shattered World
Wizards
Copyright Policy
Feedback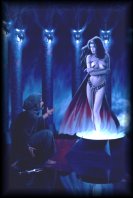 Guild Leader: Nobody
Current Alliances: Arioch, Zarquon, Ke'ting, Xarus, Psyche, Gaia, Javen and Malecta
Profession: Illusionist
Location: City of Merenth

Description:
A member of Ravnos is able to distort reality - in effect, creating "real illusions". It offers significant powers even to the new member, and has attracted many into its shadow.