What is Shattered World?
About Shattered World
About MUDs
How do I play?
Frequently Asked Questions

Dynamic Commands
Who's On?
Sanom City Times
E-Mail Admin
Play Now!

Game Features
Races
Guilds
Quests
Lords
Cults
Skills
Legal System
Economic System
Maps

Shattered World
Wizards
Copyright Policy
Feedback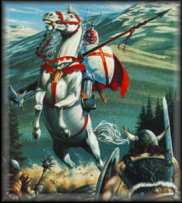 Guild Leader: Yrayle
Current Alliances: Zarquon, Chalana Arroy, Xarus, Garuda and Gaia
Profession: Knight
Location: Unknown

Description:
The knights of the realm worship the almighty god Vulcan. Those who would render their alliegance to this guild must be human and male.

Knights are bestowed the powerful skills of decapitation and metallic skin as well as training and numerous others. Generally allied to the healers and sworn enemies of the chaos, the metallic knights seek to bring peace to the world through order and discipline.

Force may be needed to achieve that end!