What is Shattered World?
About Shattered World
About MUDs
How do I play?
Frequently Asked Questions

Dynamic Commands
Who's On?
Sanom City Times
E-Mail Admin
Play Now!

Game Features
Races
Guilds
Quests
Lords
Cults
Skills
Legal System
Economic System
Maps

Shattered World
Wizards
Copyright Policy
Feedback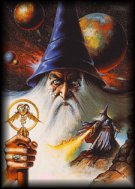 Guild Leader: Xenu
Current Alliances: Arioch, Ke'ting, Vulcan, Ravnos, Gaia, Javen and Malecta
Profession: Mage
Location: Sanom City

Description:
The mages worship the powerful god Xarus, who bestows upon his followers the gift of magic. Many spells are offered, from summoning of helpers, to divination. The mages are a select group, and are selective of newcomers. Many have been rejected because of their lack of intellectual prowess.