What is Shattered World?
About Shattered World
About MUDs
How do I play?
Frequently Asked Questions

Dynamic Commands
Who's On?
Sanom City Times
E-Mail Admin
Play Now!

Game Features
Races
Guilds
Quests
Lords
Cults
Skills
Legal System
Economic System
Maps

Shattered World
Wizards
Copyright Policy
Feedback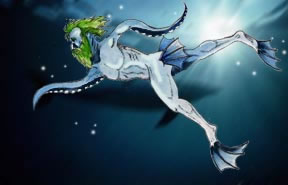 Hugely strong, Tritons rule the seas and have been known to drag their prey to a watery death with their massive tentacles.

Attributes: Above average strength, size and sanity. Below average charisma.

Powers: Ability to grab an opponent and crush or drag him.

Vulnerabilities: Must keep wet.

Description:
Tritons are a difficult race to play because they need regular access to water (as their skin dries up otherwise). They do get a very high swim skill as compensation. You may want to base yourself at the SeaSide Village (east of the main city).